Scoping Study for a Call for Proposals in the Western & Southern Caribbean: An Evaluation & Recommendations
In September 2021, Francis and Tom concluded a productive consultancy term for the Blue Action Fund to support the establishment, and increase the management effectiveness, of Marine protected Areas (MPA) in the Western and Southern Caribbean. This information was compiled through extensive literature reviews, stakeholder engagement and interviews with those active in the focus region to help guide the Blue Action Fund's Management and Supervisory Board decision for the geographical scope of the next Call for Proposals.
This consultancy culminated in a desk study that highlighted the current status of the nearshore environments of the Western and Southern Caribbean across 19 countries alongside current and proposed spatial management measures of over 600 MPAs, political will of countries and established local, national and international stakeholders operating in the region.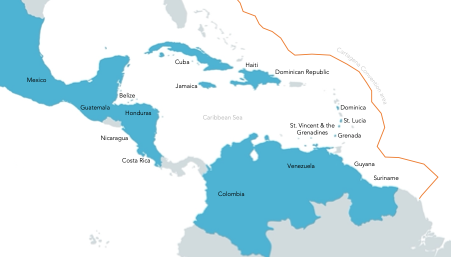 Touching upon the threats faced by the nearshore environments, specifically coral reefs, mangrove forests and seagrass meadows, the study described the barriers to effective MPA management, alongside the successes, and the needs of stakeholders and co-management authorities for implementing well-managed and sustainable MPAs.  It was essential that the Blue Pangolin team identified MPAs, and projects, that were supported by a strong co-management framework, held the capacity to be financially sustainable and ability to scale while generating real, short, and long-term benefits for nature, local communities, and the wider Caribbean region.
Throughout this period, the prospect of the Blue Action Fund's investments within the region was highly received, and there was great excitement amongst stakeholders and funders. The desk study, rich with considerations for the Blue Action Fund, was submitted in September 2021 and the Blue Pangolin team now eagerly await announcements from the Blue Action Fund following another successfully implemented project.

Topic:
Evaluation, Marine Protected Areas, Scoping Study