The 4th Monaco Ocean Week took place from 22-28 March 2021 and brought together stakeholders in the marine sector in a week of debate on ocean conservation issues. Blue Pangolin's team was involved in several events:
The ICRI event entitled "Time to Act for Coral Reefs" – Bringing together ICRI's members, speakers were invited to present updates from ICRI's work over the previous years. Focusing on coral reefs, the two-hour event supported by Blue Pangolin, discussed updates from the Global Coral Reef Monitoring Network, coral reef restoration, future projections for coral reefs and the post-2020 Global Biodiversity Framework process.
Participation in the "Which knowledge for which sustainable ocean governance?" event – Proposals for improving ocean governance have emerged recently; it is crucial to address these issues to ensure the health of the ocean, for present and future generations. Francis Staub presented ICRI as a unique and informal of unique global governance mechanism to foster sustainable management of coral reefs and their associated ecosystems.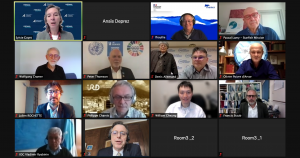 Francis Staub, Blue Pangolin Director, was also invited to the 12th meeting of the Monaco Blue Initiative convened during the Monaco Ocean Week under the presidency of HSH Prince Albert II of Monaco.